Mostra d'Arte di beneficenza per la Ricerca sul cancro
W3 GALLERY ACTON (LONDRA)
Press Release
PAINT FOR POUNDS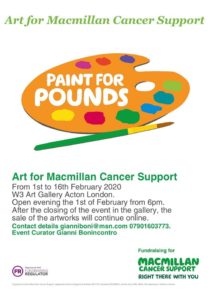 ARTification is very pleased to be supporting the upcoming exhibition, event and fundraising for a cause that touches us all.  The W3 gallery (185, High Street, Acton, W3 9DJ) will host the charity auction exhibition in February.
Paint for Pounds is an open auction hosted by Gianni Bonincontro in support of Macmillan Cancer Support.  It's a really international selection, Gianni tells me that there will be works available from Canada, Russia, France, Cuba …… all over the world in fact – Gianni himself has exhibited in Rome and his friends and colleagues at the Mega Art gallery there have helped bring together the works for this auction.
The exhibition opening event is on Saturday 1st February at 6 pm at W3 gallery.  The opportunity to see the exhibition and enjoy the celebratory event is open to all.
To celebrate the International Day of Women and Girls in Science, Mirella Orsi will be speaking at the event. Mirella is a well-known speaker and writer on science and medicine; she is bringing her expertise to talk about the great contribution of the female scientists in cancer research.
From 3rd to 16th February Gianni will open the gallery to the public and will be open daily 10am -1pm, & 4-6pm.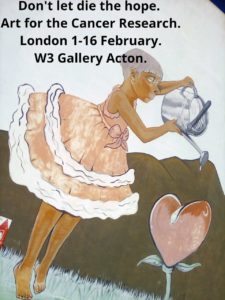 All proceeds of the auction will help fight the big C by helping Macmillan Cancer Support.  The auction continues online after the gallery event.
Contributing Artists include:
Albino Palamara www.albinopalamara.com/
Jole Serreli www.facebook.com/joleserreli/
A bit about Gianni Bonincontro…
Gianni was born in Tripoli, Libya on 1958 and could be defined a 360-degree self-taught artist, very curious, versatile, alternative, delicate but incisive.
His first contact with the planet art was with the music, in fact, since very young, he took piano lessons that unfortunately interrupts at the age of 12 when he moved to Italy with his family from North Africa.
Later, he started to play percussion, and once in London, in 2001 he began to play with his first band and others, as a band member and as collaborator. But all this doesn't distract him from one of his many artistic passions and curiosity. So, then, he began to devote himself to writing and in 2005 he won first prize to a literacy contest in Rome with one of his poems.  Motivated by this result, he began to write his first romance, a spy story named " Gog and Magog" that was published in Italy in 2006, while in the years to follow he won different prizes in literacy competitions both in Italy and in England.
But for him, all of this was not enough, so left the music world and with the desire to confront himself, passionate both of photography and painting, he devoted himself, first to the camera, then to the brushes and the colours, and inspired and fascinated by great artists such as Pollock, Picasso, Miro', Cesar Manrique, the African and the aboriginal art, finds its own form of expression in the cubism, abstract painting and dot art, painting on canvas, wood, cartridge paper, working in oil, acrylic, varnish and ink. Sometime, when he finds some interesting piece of wood or recycled material, he creates some interesting sculpture too. His paintings, rich in color, it may seem dictated by the case but, if observed carefully, you'll discover some interesting details.
As a photographer he likes to play with the natural light, he adores black and white and hates to retouch up his photos with Photoshop or other programs.
Between his pictures works, you can find from a beautiful sunset to a naked woman, from a simple flower to an intense expression of a human face. Even with his digital art that he hits the eyes of who is looking for something unusual and to remain bewitched from the delicacy of the colours and the softness of the abstract forms.
In 2007 he created "@rtItaliaPromos" a project born in order to promote every kind of Italian artists outside their national borders in collaboration with some art gallery in London.
In 2012 Gianni returns to his first love, the music but not as a player but as composer, associating his compositions with some video clips he shot.
Having also worked in London as an extra and supporting actor for many years, even with great actors and directors of Hollywood, among many things, he wanted to experience being behind a camera, so combining his writing skills and his film experience, he wrote and directed "The Dream" a short film that hopes to present to a contest very soon.
Today Gianni, artistically, always looking for new stimuli, and commits his time between painting, writing, photography and some musical composition, but all this does not distract him from the daily and social problems, in fact part of his artistic profits devolves them to charitable associations like Cancer Research and the Homeless.
Something about Mirella Orsi…
Mirella Orsi is a London based freelance Science Writer and Science Communicator with a background in Pharmaceutical Chemistry, and Chief Coordinator of the BSS-HUB. Her work focuses on the communication of science-related topics, education, and Public Outreach (EPO) with broad expertise in the History of women in Science. Her writings on Science for the popular press have covered a range of topics in medicine, chemistry and physics, ranging from the History of Science to the latest STEM discoveries. She has written for a variety of outlets and interviewed some of the most influential scientists, including two Nobel Prize laureates. She has been a guest speaker and a moderator in many science festivals including the Science & Philosophy Festival in Foligno and the Futuro Remoto Festival in Naples. As a conference planner, she organised the panel "Science and Politics" at the CNR in Rome and conference "Between Science and Society" in Naples. Member of the NUJ and The Association of British Science Writers (ABSW), she has been a coordinator and tutor in EU journalism internship projects. She has a master's degree in Chemistry and Pharmaceutical Technology from University of Naples Federico II.
A bit about ARTification…
ARTification is an Acton-based charity that celebrates art, culture, community.
ARTification is a community rooted organisation, our vision is to create opportunities and connect people and places. Developing our arts and cultural venues and experiences to bring communities together, innovate, empower and catalyse change. In addition, our projects initiate creative input into regeneration and cultural place-making.
Our Values:
We believe that art and creativity can transform communities.
We believe in equality of opportunity.
We believe in the strength of diversity for the health and wellbeing of all members of the community.
At our core as a cultural connector, we support community cohesion and development. This is reflected in our partnerships, range of participants and projects.
For more about our work see www.artification.org.uk
Gianni Bio
2005 – Rome – Italy – 1st Prize in literacy competition.
2005 – Salerno – Italy –  Jury Prize in a literacy competition.
2006 – Salerno – Italy –  2nd Prize in a literacy competition.
2006 – London – Mention by the Jury in a literacy competition.
2008 – Catania – Italy –  Jury Prize in a literacy competition.
2009 – London – Tiffinbites Restaurant Gallery St. Paul.
2009 – London – Emergency Art Charity Auction Unit 24 Gallery.
2009 – London – Bombay Bicycle Club Gallery Painting Exhibition.
2009 – London -Bar Sequence Islington Photographic Exhibition.
2010 – Surbiton – UK – Golf Plaza Gallery Digital art Exhibition.
2010 – London – "An Ealing View" Photographic competition at PM House & Gallery, Special Commendation
2010 – London – 6th Ealing Open Art Exhibition PM House & Gallery.
2011 – London – Londr'ArtExhibition Aquire Gallery Painting Exhibition.
2011 – Florence – Italy – ArtMust  Photographic Exhibition.
2012 – London – Photography Exhibition at The Royal Horse Guards.
2015 – London – EAG Centenary painting Exhibition Princess Hall Ealing Town Hall.
2016 – London – EAG Art and Craft Exhibition St. Barnabas Church Ealing.
2016 – Surbiton- UK- Art Centre Corner House Art Gala Painting Exhibition.
2016 – Worcester Park Surrey UK Court Farm Gallery Painting Exhibition.
2017 – London – Polish Centre AEG Painting Exhibition.
2018 – London – W3 Gallery Painting Exhibition.
2019 –  London –  Fade to Black art Gallery. Painting Exhibition